---
In the beginning...
It all started a long time ago in a place far, far away....

Well, as of this writing, things started for me about 36 years ago, and about 12 miles away!

I was born in 1965 in the city of Pittsburgh, Pennsylvania.

This is one of the rare photographs of me when I DIDN'T require corrective lenses!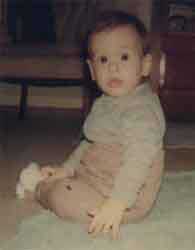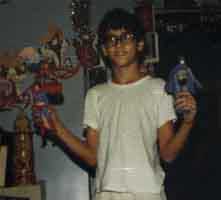 ---
As long as I can remember, I LOVED superheroes! And I have to tell you -- these 8 inch action figures were the BEST!

My mom would buy me STACKS of comics from flea markets, and I would CONSUME them hour after hour!

I learned to draw from all those old comics! They were beat up, torn, cut , stained -- and that was their condition when we bought them! I didn't care -- I wanted the art and the stories.

There wasn't a mylar bag or backing board anywhere in MY universe!
---
I was KING in MY universe!
Oh, the humanity...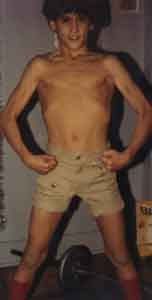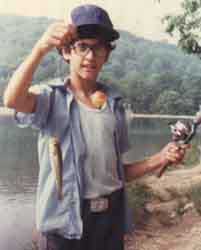 ---
I did OTHER, more NORMAL, things too!

I rode my bike, fished, camped, played farm league baseball... all the typical stuff kids do.
---
I even got to see the Adam West / Burt Ward Batmobile at a local car show! Very cool!

Who could have guessed that nearly 25 years later, I would be actually sitting in the cockpit of the Batmobile from the 4th Batman movie! It was at San Diego -- and I was the ONLY person to sit inside it!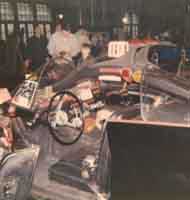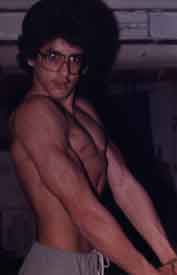 ---
Who's KING NOW, baby!?
One thing I learned from reading comics -- the girls liked guys with muscles!

I'm no Captain America, but that's not too bad for a 13 year old kid!
---
What'd I tell you about the girls!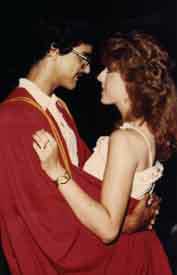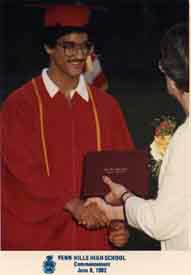 ---
One of the first major milesones in every person's life -- High School Graduation!

I graduated from the Penn Hills Senior High School, Penn Hills, Pennsylvania. Penn Hills is a suburb of Pittsburgh.
---
Onto college!
I went to Bucknell University, in Lewisburg, Pennsylvania. If you haven't been there, you're missing an absolutely beautiful campus.

My dad's heart surgeon went here, and since I wanted to be a surgeon -- here I went!

I was enrolled as a Pre-Med student until the day I walked into Inorganic Chemistry and saw the 4-foot-long Schrodinger Wave equation scrawled on the chalk board! It was at that moment I KNEW Pre-Med was not for me! Well, that and the fact that I can't stand the sight of blood...

Next I became a Chemistry major. Not the sharpest move I could've made given my experience with Inorganic chemistry.

Next I became a Chemical engineering major. Again, what WAS I thinking??

Finally, thankfully, I found electrical engineering, and I was on my way!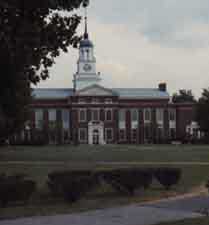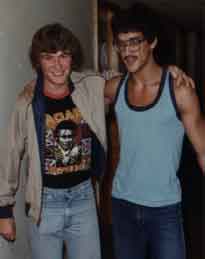 ---
It's who you know...
My freshman year at Bucknell I met Glenn Herdling!

We both wanted to work in comics, and we both were homesick over the girlfriends we left behind. We became great friends.

After graduation, Glenn took his double major (English and Psychology) and went on to work with MARVEL COMICS. I took my BS in electrical engineering and went to work with the Kearfott Division of the Singer Company, located about 20 minutes from Glenn's house!

Glenn and his family graciously put me up for a few months until I got on my feet with the new job.
---
The rest is history!
While in New Jersey, I was married to my high school girlfriend, Amy!

We had our only son, Alex!

I worked as an electrical engineer during the day, and worked on my art in the evenings. My friend Glenn would take my art into Marvel to get critiques by other editors and artists.

After several years of that critiquing, I began to get small penciling jobs from Marvel.

Amy, Alex and I relocated to our hometown of Pittsburgh (in the suburb Monroeville). I continued working as an electrical engineer with the Loftus Division of the Eichleay Corporation.

About a year later, I was getting more assignments from Marvel. When the call came with an opportunity to work on Daredevil, I quit my engineering job and began my career as a comic book artist!

I've never looked back since!

Onward, and upward!
---